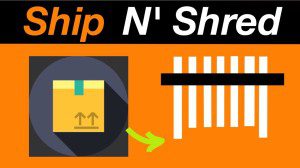 Fast, Easy, and Convenient!
___

Tired of spending time and money worrying about how to safeguard all of your proprietary business data? Need to destroy your personal records and financial data safely, but never seem to find the time on your busy schedule? Paper Cuts can help!


It's as Easy as 1-2-3!

With our SHiP N' SHReD service, shredding documents, records and personal items is so simple!

➊ You Box it!



All Paper Cuts Service Consultants must annually undergo a rigorous training program. Each Consultant receives a criminal background check, is subjected to drug testing, and signs a Client Confidentiality Agreement pledging to protect each customer's sensitive material and maintain total confidentiality.

➋ FedEx Ships it!



Paper Cuts has advanced comprehensive security and document management for on-site shredding in Southern CA for over 15 years. We continue to work hard to protect your confidential documents with the most secure, well trained and responsive on-site shredding service available in Southern CA.

➌ We Shred It!



Need to change a service date? No problem, just let us know in advance and we will make the appropriate adjustment.


Teamwork That Saves Time & Money!

With our SHiP N' SHReD service, you simply box up your items to be destroyed and drop them off at any Fed Ex Office location, a Paper Cut's Premiere Partner. Fed Ex professionals will then ship your box of items directly to Paper Cuts to be completely shredded.  How easy is that?  No hassles at all!
Simply SIGN-UP HERE for more information on using this convenient service.