24/7 Access To Records
___

With 24/7 around-the-clock access to your protected files, Paper Cuts always provides you with easy retrieval of your records. You can also store hard-copy records and have the files scanned and sent to electronically as needed. Need files picked up in an emergency, or delivered Next Day, or Same Day? No problem.


Customized Storage Options
___
Saves You Money
___

Many of our clients were surprised to learn that Paper Cuts document storage significantly reduces costs compared to our competitors, providing savings to hour bottom line. With Paper Cuts storage starting at just $45 per month, including a customized inventory and bar code tracking of all cartons, we give you huge savings compared to competitors:
Save 50% - 60%

vs. other Office storage warehouses

Save 50% - 70%

vs. other Public storage facilities

Save 15% - 60%

vs. other Commercial Record centers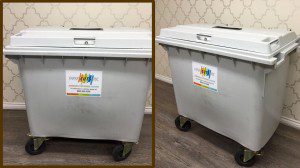 XL Large Bins
___

Paper Cut's XL Bin Storage options offer a variety of sizes to store hard copy records in standard banker boxes. Any non standard banker boxes are considered odd size cartons. Boxes are barcoded and assigned to random bin locations throughout Paper Cuts secured warehouse facilities and our secure records center uses a top of the line ASI tracking and inventory control system.
Types of Carton Storage Sizes include:
Standard size (10x12x15)
Letter size (10x12x24)
Legal size (10x15x24)
Check size (fits standard bank check)
X-Ray size (fits standard medical x-ray)
Standard Containers
___

Our Standard Storage Containers are useful for collecting business and personal confidential information for safekeeping. Perfect for home or residential office, these boxes can be taken to Paper Cut's warehouse facilities or to our regularly scheduled community shredding events. Used in conjunction with our business shredding services for employees working at home, your containers can be a helpful tool for reducing risks related to identity theft or corporate espionage.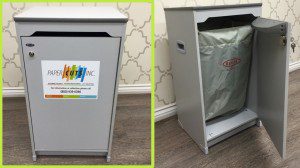 Residential Cabinets
___

Our Residential Security Cabinets are top-loading bins capable of holding over 1,500 pieces of paper. With heavy cardboard construction, they can also be labeled with the suggested types of confidential information that should be collected, and stored in a safe location or shredded.
Dimensions of our Residential Security Boxes are:
15 3/4" x 10 1/2" x 12 1/4"
File-Sized Banker Boxes
___

Made for use both inside and outside of the office, our Letter-Sized Boxes can be a key component of a document destruction policy. These will handle any of your legal or letter sized storage needs. Small, mobile and easy-to-use, these containers conveniently fit under desks, allowing for immediate disposal and enhanced security. These locking durable containers help reduce discretionary decisions of employees as to what should be shred and recycled by having it right at their desks. They are also ideal for home-based employees needing a convenient document security system.
Self-Storage
___

Our Open Self Storage includes storage space of files and records on shelves rather than in boxes for record types that are more appropriately stored in this manner. Charge for this service is based on linear filling feet rather than cubic ft. Files may be barcoded or kept in a sequential order that reflects the client filling system.