Best Shredding Services in Fullerton
___
Paper Cuts has been proudly providing superior shredding services in Fullerton since 2004. Our loyalty, experience, and dedication gives us an edge in understanding the subtle dynamics of the unique Fullerton marketplace, and all its neighboring communities. We work extra hard to offer more affordability, flexibility and responsiveness then other nationally-franchised competitors headquartered outside of CA. We live, work, and play here too, so our localized expertise helps a variety of Fullerton based industries and organizations:
Business & Corporate Industries in Fullerton
Financial & Accounting Industries in Fullerton
Legal, Medical & Scientific Industries in Fullerton
Educational & Non-Profit Entities in Fullerton
Home Businesses & Residential Offices in Fullerton
Customers and workers in businesses across Fullerton are aware of their legal entitlement to privacy while dealing with confidential information. It's important to take precautions to ensure that sensitive confidential company or personal data doesn't accidentally fall into the wrong hands, but that's not always easy. It's not worth the hassle of potential criminal and civil prosecution or possibly the loss of your business income if you throw away sensitive information without first destroying it.

Convenient Mobile Shredding in Fullerton
___
We offer customized On-site mobile pick-up and drop-off for all types of shredding services in Fullerton with the highest level of security, convenience, efficiency, and affordability. Our professional drivers are prompt, courteous, and specifically trained on how to handle sensitive materials with complete confidentiality remaining intact. They will travel to your office, business, home, facility or warehouse location in Fullerton to shred any confidential materials that you need discreetly destroyed. You can conveniently schedule a one-time pick-up or choose an ongoing plan for regular mobile shredding services.
Call us now toll-free at 800-939-0390 for a free quote.
Paper Cuts proudly serves communities throughout Fullerton, California:

We take care of the entire shredding and destruction process for you. This includes picking up, transporting, destroying, disposing, and/or shredding as well as providing you with a Certification of Destruction. Our well-documented system for handling your document destruction needs in Fullerton ensures that we are always in line with all and any applicable federal, state, or municipal rules or regulations. The Certificate of Destruction will include specifics such as the destruction date, the items destroyed, and the number and types of items destroyed. Hard drives and any other storage devices, to name a few, are all recycled after they have been destroyed. Before we completely destroy the devices, we make a note of the serial number of each hard drive or data disc and ensure that you receive a copy of the database of serial numbers.

High-Speed Document Scanning In Fullerton
___
Paper Cuts offers custom High-Speed document scanning and imaging in Fullerton to meet your specific business or personal needs. Our digital imaging service includes high-quality, large quantity copying, color scanning, and digital storage solutions. Your documents can be available for future retrieval purposes anytime on any digital device or computer in electronic formats including PDF, JPEG or TIFF files. This will save you time and money, as well as reduce your paper usage, physical file storage space and overall document management costs.
Our professional team of scanning experts is able to accommodate a wide variety of schedules and personalized needs in Fullerton, making it ideal for protecting large amounts of confidential documents. If you require service once a week, twice a week, every four weeks, or quarterly, we can facilitate a customized schedule for you. Customers have reported feeling safer while saving both time and money after switching to our professional document destruction services. You too can have 'piece of mind' when you make the right choice and let our team of certified destruction experts securely erase your private and sensitive data files.

Affordable Commercial Paper Shredding Services
___
Paper Cuts offers the most secure, convenient, cost-effective and environmentally conscious solutions for ensuring proper disposal of confidential documents in Fullerton. Our secured process begins with our attentive staff working with you to develop a customized document shredding program that seamlessly fits your organization, 24/7. For daily paper flow, our top-of-the-line security consoles are strategically placed throughout your facility at no charge for convenient ongoing maintenance.
Since 2004, we have built our stellar reputation for customer service and affordable rates because we understand that every business has unique requirements. We take great satisfaction in both our customized pricing and the thoroughness of our professional and confidential services. We will work with you to minimize your document shredding costs anywhere in Fullerton. We offer a base fee and then we charge per container after that.
In many cases throughout Fullerton, vital business and personal information can be discovered just sitting amongst other trash disposed of in a public garbage bin near the same company business office, accessible to anyone walking by. Since most businesses have access to sensitive personal information, there is a growing body of legislation being supported to protect all citizens' confidentiality. Consequently, it is imperative that all confidential information, including but not limited to employee files, customer databases, reimbursements, supplier credentials, pricing data, revenue, manuscripts of proposals, and communications, be professionally and discreetly shredded by a trusted professional shredding firm like Paper Cuts.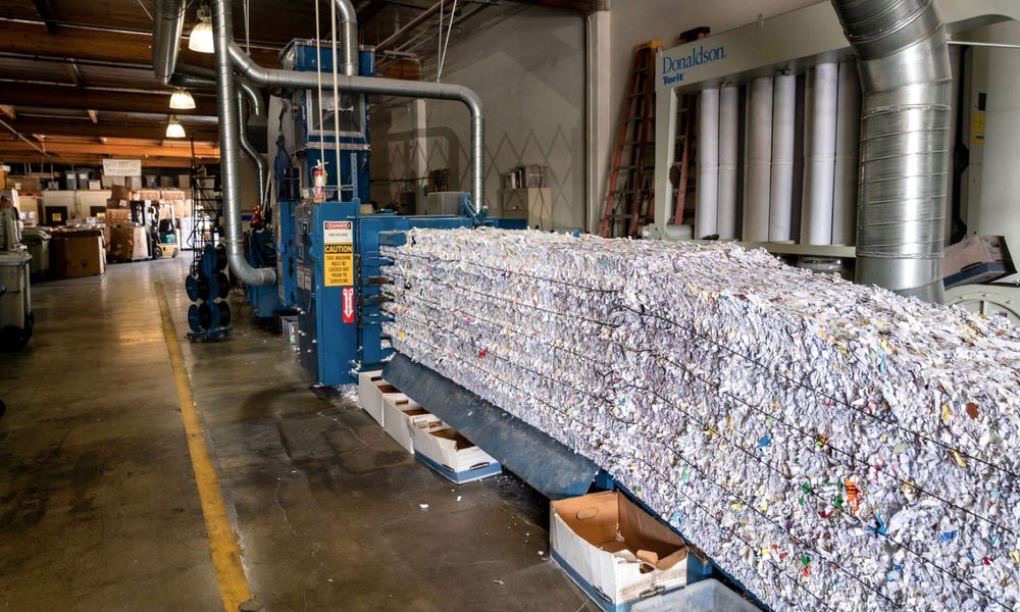 eWaste Disposal and Recycling in Fullerton
___
Old electronic devices, phones, fax machines, copiers, computers or hard-drives can hold valuable data inside, so we ensure total destruction of digital data in Fullerton by completely demolishing eWaste to tiny particles. Our eWaste disposal and recycling services in Fullerton can take place in our off-site facility or conveniently at your location in your physical presence. Our shredding and destruction services are completely HIPAA and FACTA compliant. We guarantee all your confidential records are completed destroyed and provide you with a Certificate of Destruction to verify completion of your job.
Information security and asset protection in Fullerton is more crucial than ever in today's increasingly and fiercely competitive corporate world. Intellectual property kept digitally could fall into the hands of competitors, or fake goods could flood the market, and lawsuits could result from the misuse of sensitive customer and employee records. To keep your company safe, you should put these things in a secure location and destroy them as soon as you are no longer required to keep them. Hard drives that are still functional can be accessed by those who need their data badly enough. Shredding the hard drive is the only foolproof method of erasing all data from it.
By contacting us, we avoid using degaussing devices and ensure no need for drilling holes. Except in cases where our client has made other arrangements, all drives we receive in Fullerton are destroyed after two business days. Prior to destruction, a registration number list will be created for each drive and a copy of the list will be provided to you. Again, with each project, we will have a Certificate of Destruction issued to you. In addition, whenever we destroy a disk drive in Fullerton, we make sure to recycle it in full. Complete observance of all relevant privacy regulations, including HIPAA, is always maintained. We have the equipment capacity to destroy many devices at the same time. Our process is NAID approved and ensures the safest method of hard drive disposal.

Unique Paper Shredding Services in Fullerton
___
Our shredding services in Fullerton are one of a kind since we only charge you for the content of your shredding container unit. This typically means that if your container unit is not completely full, you will only be charged for the actual quantity in the unit. If you feel you would like more detailed costing, please feel free to contact us for a comprehensive costing estimation breakdown.
Our business model is focused on satisfied clients spreading the word about how effective our shredding services are. Our company culture focuses on a shared commitment to serving the needs of our customers in a way that benefits both of us. Our team at Paper Cuts Document Shredding Services in Fullerton is dedicated to avoiding future issues that could lead to major problems. Instead, we provide effective, low-cost customized shredding solutions for your individual needs.
In this regard, it is important to note that our professional shredding teams have accurate data on the volume of material we destroy and remove from your premises. We keep track of what is destroyed and only invoice you for that quantity only, plus we offer cost-cutting recommendations for businesses in Fullerton based on our industry experience. Discounted, Off-site document shredding solutions are available with our document destruction team. We'll do what we can to accommodate your requirements because destroying sensitive information in-house is always the safest way to go.

File Storage and Records Management in Fullerton
___
Our custom file storage and records management solutions in Fullerton are perfect for your long-term or short-term records storage, archiving, scanning, imaging, and consulting needs as your business grows. With our 24/7 around-the-clock access in Fullerton to your protected files, you always have easy retrieval of your paper records. You can also archive hard-copy records of any paper files scanned and have them sent to you electronically as needed. Need your paper document files picked up in Fullerton in an emergency? No problem!
If you are a large company or small organization based in Fullerton with unique paper file storage or document shredding requirements, we can customize a 'set it and forget it' schedule for all of your comprehensive information security needs. Our plans are affordable and convenient to fit your specific budgetary needs whether you need one or any combination of our shredding, scanning, storage, recycling, destruction or file management services.

Hard Drive and Data Disc Destruction in Fullerton
___
Paper Cuts securely destroys all types of hard-drives and data disc storage devices across Fullerton. Our certified destruction professionals can provide you with an efficient, cost-effective Off-site hard-drive destruction schedule. For better convenience, our mobile shredding trucks can stop by your location and destroy your drives and discs while you watch in front of you. In a hurry? You can always drop off your storage devices in person to be destroyed at our main San Fernando warehouse facility.
Plus, in addition to giving you the opportunity to watch your actual hard-drives being destroyed, we give you with a detailed Certificate of Destruction showing the date and the time of completion of destruction, whether it is OnSite at your location or OffSite at our main warehouse. Our goal is to always provide you with 100% Customer Satisfaction, guaranteed!

Product and Materials Destruction in Fullerton
___
Paper Cuts is your go-to solution in Fullerton for secured product destruction and trademark protection. Many of our customers routinely bring us broken or damaged items including clothes, toys, handbags, cosmetics, and packaging materials. Every year, we destroy thousands of distressed, and out-of-date products. Through our uniquely secured destruction processes, we can also discretely eliminate any counterfeit products that have you confiscated were illegally being sold.
Our Certified Destruction professionals will provide you with a strategic cost-effective Off-site resource for efficient product destruction, disposal and recycling service for unsaleable alcohol and non-alcohol products. We can also recover additional product materials including: Beverage products, Packaged materials, Unsaleable products, Counterfeit goods, as well as Liquid and Chemical products.

Certification of Document Destruction Guaranteed
___
Immediately following the completion of your professional document destruction in Fullerton, our team will issue you with a document shredding Certificate of Destruction. While the majority of competing document destruction services issue a Certificate of Destruction, ONLY Paper Cuts Document Shredding Services in Fullerton provides you with a Certificate of Destruction that specifically itemizes every secure destruction unit we maintained for you and the amount of material contained in each one.
In order to validate the Certificate of Destruction, both you and our Destruction Specialist in Fullerton need to approve it. You will no longer have to worry about whether or not you are being overcharged or whether or not any of your bins were overlooked. All the legally required check-boxes have been ticked when you contact us for your document destruction and paper shredding services in Fullerton.

Drop-Off Shredding Partners In Fullerton
___
In a hurry to have your items shredded quickly in Fullerton? Use our DRoP N' SHReD service at any authorized Paper Cuts partner location, where you can simply drop-off your items to be shredded at the DRoP N' SHReD partner location closest to you!
Smaller jobs of five (5) boxes or less full of paper documents can be brought to any nearby authorized DRoP N' SHReD partner location in Fullerton. Common items for shredding disposal such as old checks, credit card records, tax statements, bank checks, coupons, medical documents and confidential materials all can be destroyed according to strict industry regulations.